The 72nd Annual NCAA Division I Men's Basketball Tournament starts next week and we at Grubbs Infiniti wanted to congratulate the University of North Texas on their winning of the Sun Belt Conference Championship. This win over Troy (66 - 63) in the Sun Belt title game gave UNT an automatic birth in the 65 team NCAA Division I Tournament.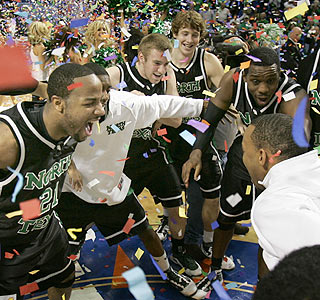 North Texas (24-8) has won 11 straight and is heading into the NCAA Tournament with a head of steam. We won't know the final brackets until "Selection Sunday" on March 14th when the final teams are selected and brackets are set but we wish UNT the best and hope they go far!
Go Mean Green!
Win a 2011 Infiniti M
Infiniti has partnered with the NCAA Basketball Tournament and will be giving away a 2011 Infiniti M.
What does Infiniti and the NCAA Basketball Tournament have to do with one another? This year Infiniti is a major sponsor of the tournament and a presenting sponsor of the "Bracket Challenge".
The NCAA Tournament or "March Madness" as it's affectionately been dubbed has been elevated to one of the top sporting events in the United States. Starting with the conference tournaments and running all the way through to the Final 4 College Basketball takes center stage during the month of March. With the major professional sports of football and baseball in their off season and hockey and basketball not yet into the playoffs it gives the NCAA an opportunity to highlight the tournament across the nation.
Articles:
CBS Sports
North Texas Earns Sunbelt Title




Grubbs Infiniti
1661 West Airport Freeway
Euless, TX 76040


817 - 318 -1200





Who do you have going to the Final Four?

Visit CBSSports.com to fill out your bracket in the CBSSports.com Bracket Challenge presented by Infiniti for the opportunity to win a new 2011 Infiniti M performance luxury sedan! Scheduled to go on sale at Infiniti dealers nationwide in Spring 2010, you'll be able to enjoy inspired technology such as the world's first Blind Spot Intervention™ System.
Infiniti partnered with the National Association of Basketball Coaches (NABC) and the SEC (Southeastern Conference) and Big Ten Conferences to provide a 360° look and share about college men's basketball. Check out the Stroke of Inspiration videos to hear from top college men's basketball coaches, click to CBSSports.com to fill out your bracket for a change to win a 2011 Infiniti M and chat about your favorite teams right here!

At Grubbs Infiniti we will be paying special attention to the Texas Teams that make it into the Tournament. UNT is already in and we expect Texas to be selected as well. There will be a few others but we won't know until Selection Sunday on March 14th.
Grubbs Infiniti | 1661 West Airport Freeway | Euless, TX 76040 817 - 318 -1200