Buying a used car can be stressful, intimidating and takes many out of their comfort zones. Decreasing the risk of purchasing a car that does not run well is paramount when looking to invest money in a used car. The used car industry can be rife with those trying to take advantage of potential buyers. Typically, used car salesmen are not always known to tell the truth, which almost always ends up costing the purchaser money. There are three things one can do to be successful at buying a good used car.
Performing due diligence on the make and model of the desired car is essential. Reading on-line reviews can alert many potential buyers to issues, which have given others a difficulty. Buyers can also go to the manufacturer's website to check for recalls. Having the car's history and value researched are also important. A simple Internet search will provide information about many organizations which specialize in reports detailing a car's history.
In addition, you are able to search the car's approximate value on-line. There are websites which offer a general valuation of a car's value if you were to purchase or sell it privately or at a dealership. 
Car buyers are able to find out a lot about the car they desire to purchase by doing these four simple searches. All of which can be done at home and will better enable you to negotiate a good deal for any used car purchase.
Negotiations can be tricky, difficult and unpleasant. No one wants to be ripped off and many times there is little trust between the seller and buyer. Already armed with information on the make and model buyers would like to purchase, they will do well to make sure and have a good night's rest and a satisfying meal before one's arrival at the dealership or to meet with a private seller. Car buyers will need to be on the top of their game and be prepared to walk away at any time.  Do not allow negotiations with a salesman to go on forever. If your salesman excuses himself and introduces another, walk away. The salesman is playing a game to wear the buyer down. Car buyers should ensure a friend or family member is available to accompany them to the dealership or the meeting with a private seller. This will prevent the salesman from being intimidating. The car buyer's friend or family member can cleverly play the devil's advocate. Finally, never leave a deposit without signing a deal.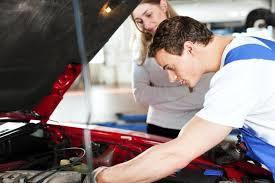 All that remains is to inspect the chosen vehicle. The best way to know what condition the car is actually in is to take the car for a test drive and inspect the car engine parts. Many car buyers are not expert motor mechanics and may need help with this critical step. An honest and experienced motor mechanic is needed. One who will come to the car's location, perform a myriad of tests and give results on the spot. This crucial step in the used car buying process, while it does add to the overall cost of the car, can actually be a benefit, as it can save one from investing in a damaged vehicle. Also, if any issues are found and the car is still purchased, it empowers the car buyer to renegotiate the deal based on the motor mechanics findings. One of the best organizations for an auto inspector is Sydney Auto Inspections.