News Photography is all about capturing the decisive moment in an aesthetic way. It is about telling the world a story, through one or more images.
Many times, news images come to be remembered as symbolically associated with a certain event, remembered for decades thanks to that special news image.
Let us look at 25 such images. Remember, news images need NOT always be technically sound. Some may be grainy; some may even have a marginal amount of camera shake…as long as they tell the story right, its all right!
The Great Depression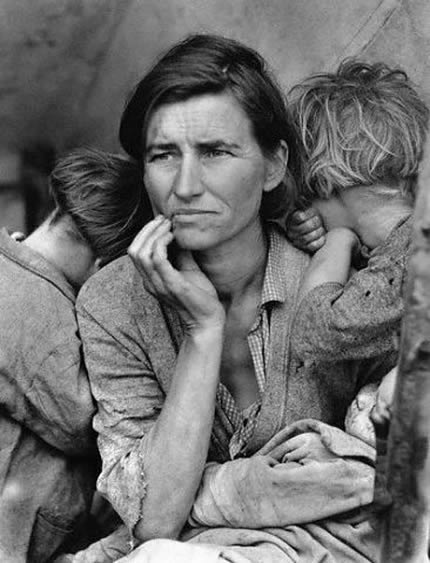 This image of Florence Thompson from the 1930s came to be associated with the great depression, for years to come. Thompson was a poor migrant mother at the time, like so many others. The expressions of worry and anguish on her face, literally speak of the mood of thousands of others during the same time. The image has been reprinted in various magazines, newspapers and journals over the years. It has become a symbol of sorts, of the great depression.
Abe Smith and Tom Shipp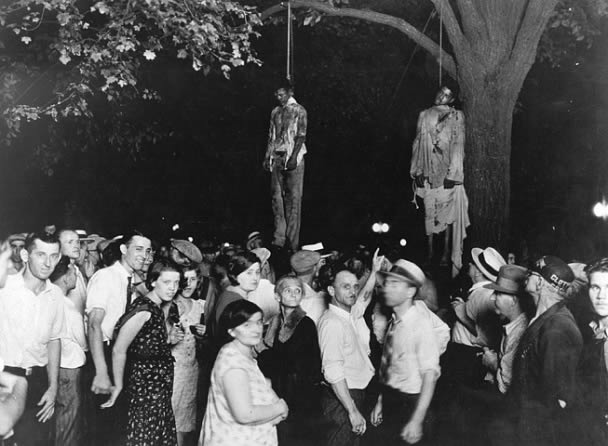 Abe Smith and Tom Shipp were convicted of robbery and rape in 1930. A crowd broke into the jailhouse, and lynched and hung them on the 7th of August 1930. Smith tried to free him self from the noose, following which he was lowered and his hands were broken. This image stands in remembrance of the injustice of racism, where these two African American youths were taken out of their jails, to be given a more severe than agreed upon punishment.
Jesse Owens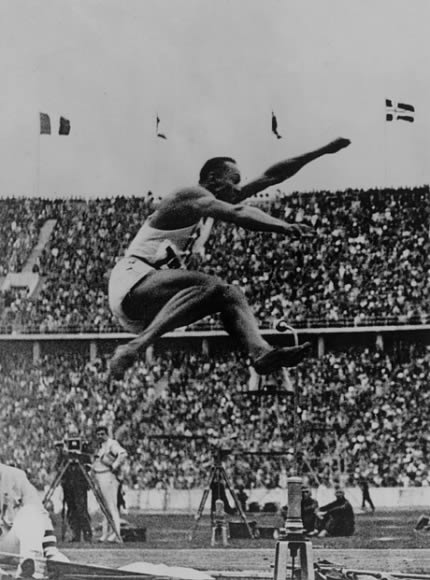 Jesse Owens was the most successful athlete in the 1936 Olympics. At a time when the Nazi authorities in Berlin were propagating Aryan supremacy, Jesse Owens' superb performance was looked upon as a fitting answer to Adolf Hitler. This image, put into context, speaks volumes of Owens' timely victories.
Moment of Death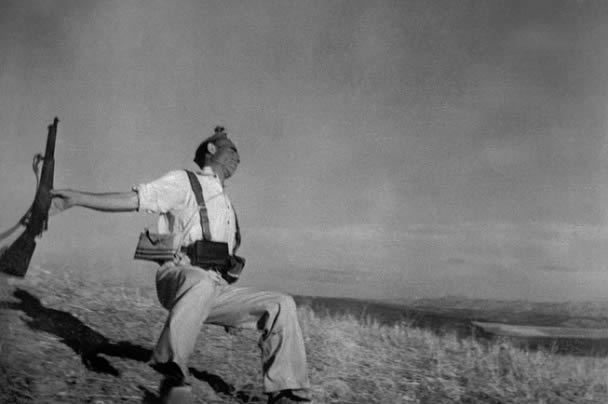 This image of militiaman Federico Borrell Garcia, captures the precise moment of his death. This was during the Spanish civil war, on the 5th of September, 1936. Sometimes photojournalists need to be prepared to photograph a decisive moment, and expect it to occur just before it actually does! Almost uncanny, but true some photographers do seem to have this gift of being in the right place at the right time.
Hindenburg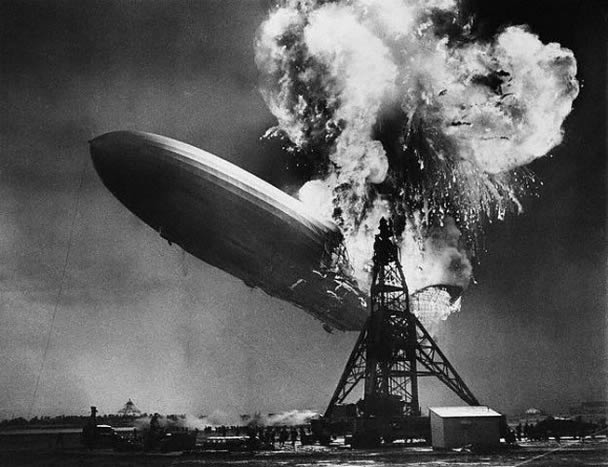 Airship Hindenburg ignites as it tries to dock into its mooring mast. This 1937 disaster resulted in the loss of 35 lives, and a subsequent loss of confidence in the airship. The incident marked the end of the air ship era. Needless to say, this image is associated to not just the air disaster, but also with the end of air ship travel as people knew it at the time.
Fall Of Nazi Collaborators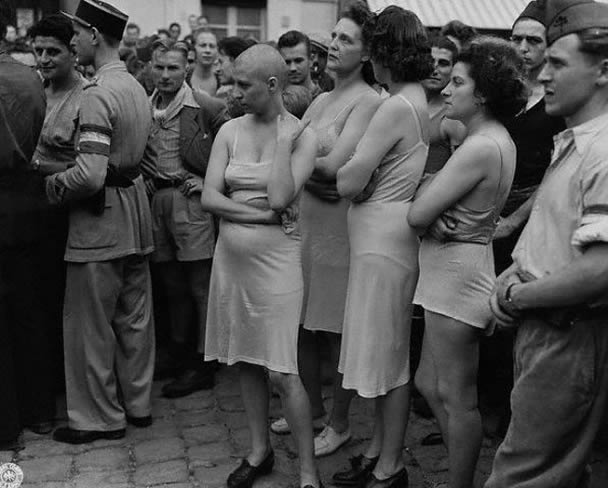 France was liberated in 1944, and women accused of having been collaborated with Nazi personnel, are humiliated in public. This may seem like a war crime to todays' audience, but during a time when people were overjoyed at seeing the Nazis leave, this image would have evoked feelings of victory.
Iwo Jima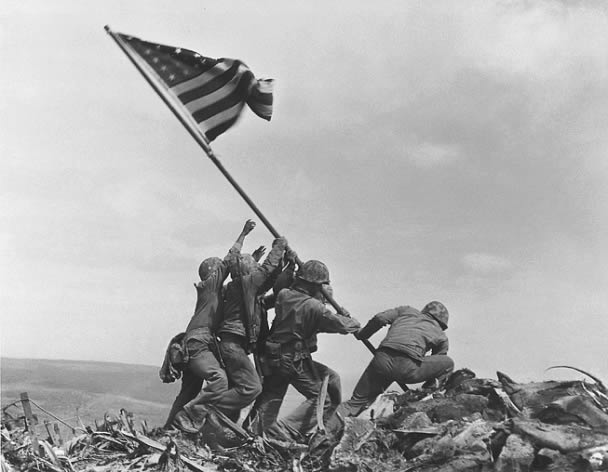 One of the most popular news images of all time – US Marines from the 28th Regiment 5th Div, raise the flag of the United States on Mount Iwo Jima, 1945. This was following the famous Battle of Iwo Jima which has been written and spoken about more than most other battles of WW2. Following this, the United States occupied the island of Iwo Jima until 1968!
Atom Bomb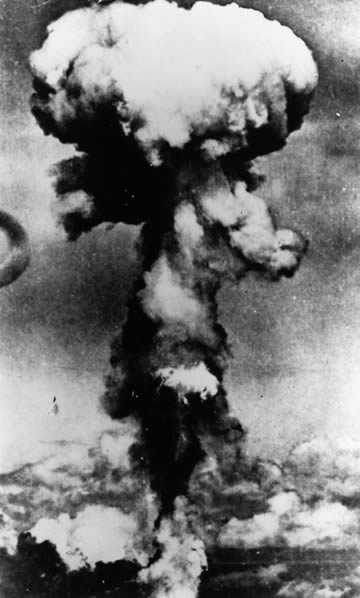 The infamous mushroom cloud, an after effect of an atomic explosion over land… This was the first time the atom bomb was used in warfare. The bomb over Hiroshima more or less put an end to the Second World War. Here, the mushroom cloud as seen over Hiroshima Aug 6, 1945. The image is remembered even today, as a terrifying beauty that the world never wants to see again.
Skymaster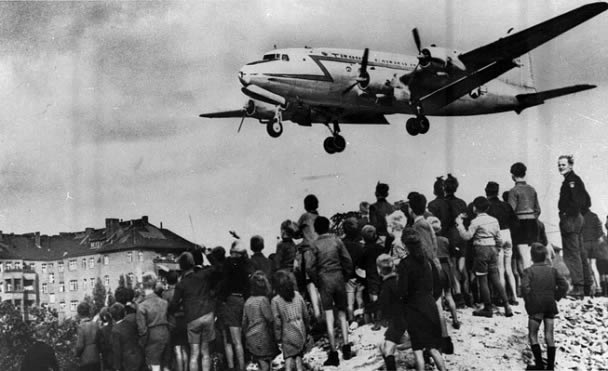 A United States Air Force C-54 "Skymaster" airplane comes in to land at Templehoff Air Base during the Soviet blockade of Berlin, in 1948.
Newspaper Blunder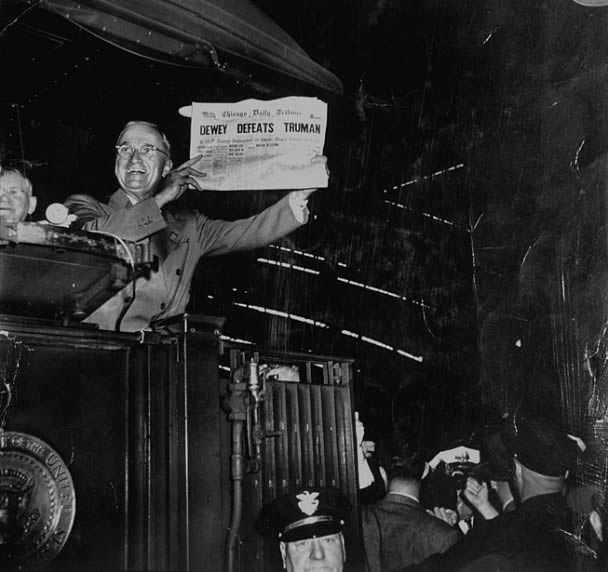 This is probably the world's most famous newspaper error! President Elect Harry Truman was expected to lose the presidential elections in 1948. Here, he is seen holding a copy of the 'Tribune', with its bold headlines – 'Dewey Defeats Truman'. This image is a grim reminder to journalists, of the importance of verifying information on breaking news stories. The 'Tribune' is believed to have adopted an anti-Truman attitude during the elections.
Racism,1957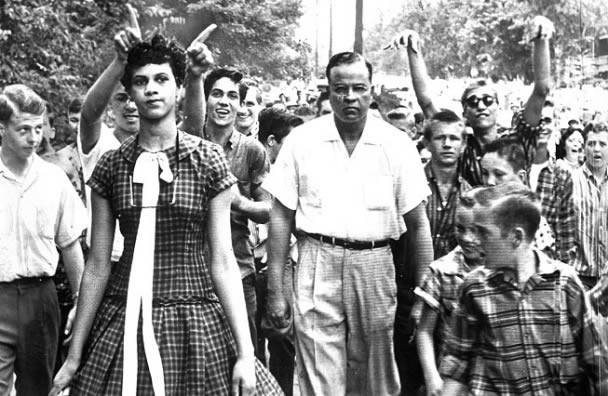 Dorothy Counts was the first black student to be enrolled into Harding High School, Carolina. This 1957 image gives us an idea of the taunts and unnecessary humiliation she had to face during the time. What was once accepted as a part of social behavior is today rightly condemned as racism. This image reminds us of what society was like, not too long ago.
Saigon Unrest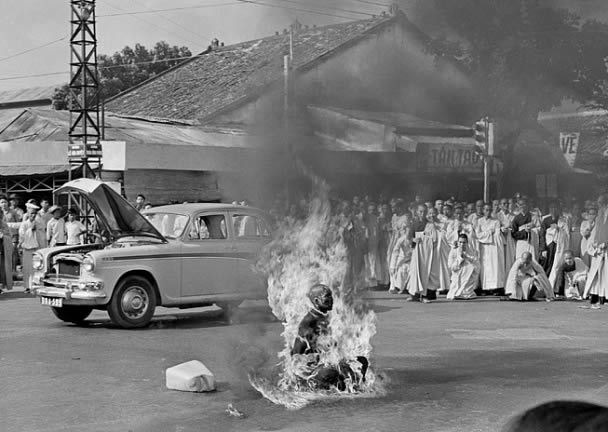 June 11, 1963. A Buddhist monk by the name of Thic Quang Duc ignites himself on a street of Saigon. This was following a series of events that seemed to target the monks and persecute them for little or no reason. The image has been reprinted many times over the decades, speaking of the possible terrible outcomes of unwarranted persecutions on innocent people.
Martin Luther King Jr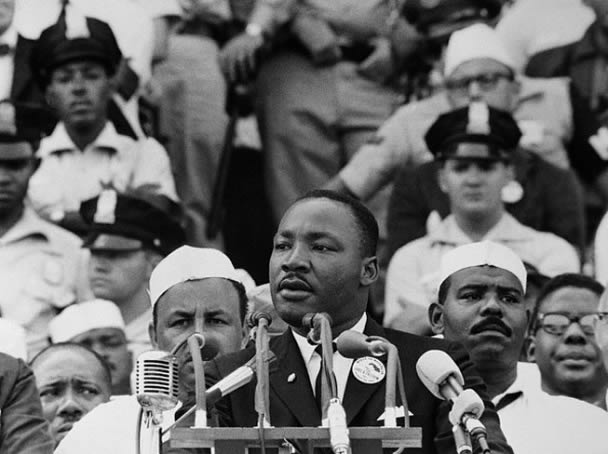 Martin Luther King Jr. giving his famous 'I Have a Dream' speech. This 17-minute speech called for an end to racism, and a beginning to equality. The speech was given on the steps of the Lincoln Memorial on Aug 28, 1963. It is remembered to this day as one of the most effective speeches ever.
JFK Funeral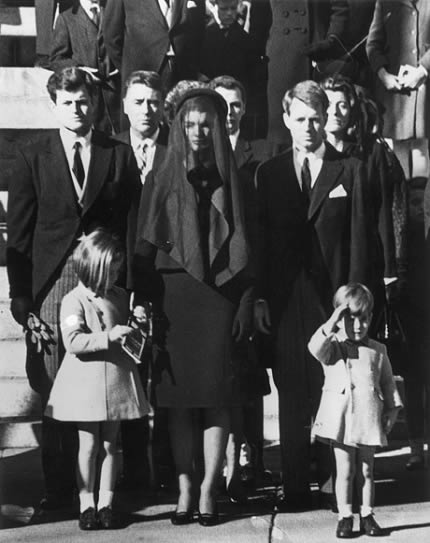 John F Kennedy is arguably the most popular American president ever. This image shows his family in mourning at his funeral on Nov 25, 1963. The photograph captured the mood of the American people as a whole, and has appeared in print many times over the years.
Saigon War Crime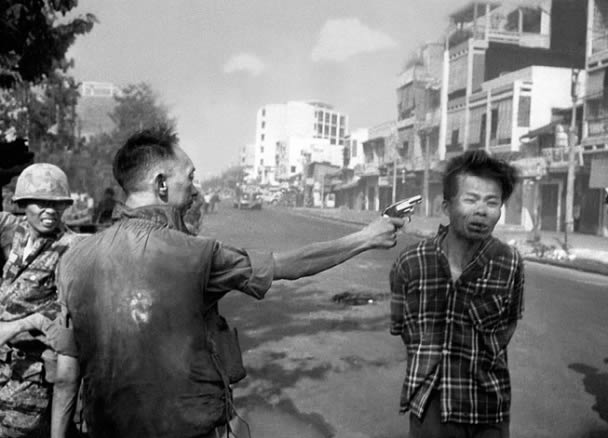 This is another image that the world remembers from the Saigon area. The police chief of South Vietnam is seen firing a pistol at the head of a man suspected of being an officer from the Viet Cong. Feb 1, 1968. The image is a fitting example of a war crime, another reminder of the unnecessary atrocities that possibly innocent civilians could suffer at the hands of police and military officials.
Man On The Moon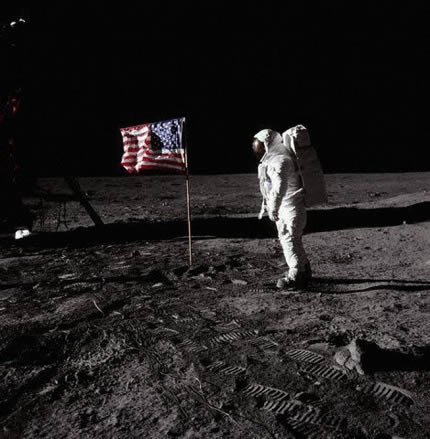 Few images we have seen, or will ever see, can have this much impact! Photographed on the lunar surface, this image depicts astronaut Buzz Aldrin, standing next to the flag of the United States, in July 1969.
Roman Polanski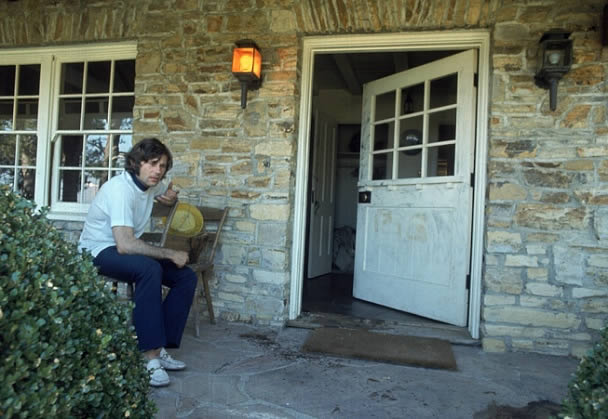 One of the most respected film directors of our times, Roman Polanski is seen here sitting at the bloodied porch of his home on Aug 1, 1969. This was following the brutal murder of his wife, by Charles Manson followers.
Anti-War Demonstration, 1970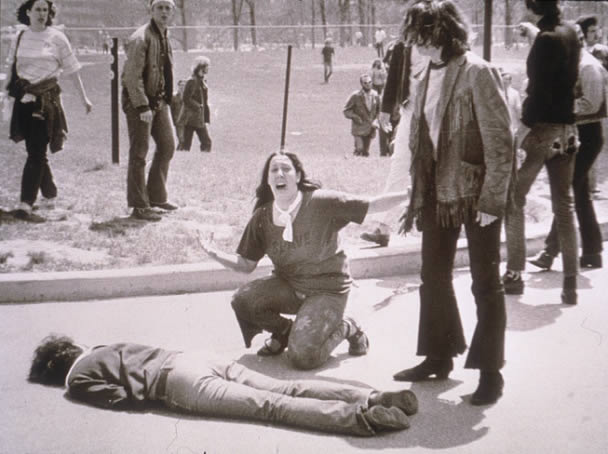 Student Mary Ann Vecchio is seen here kneeling near the body of another student by the name of Jeffrey Miller. The anti-war demonstrations by students of the Kent State University went terribly out of hand on May 4, 1970. This image stands to remind us what a seemingly harmless demonstration, even for the right cause, can turn into when uncontrolled.
Terror In Vietnam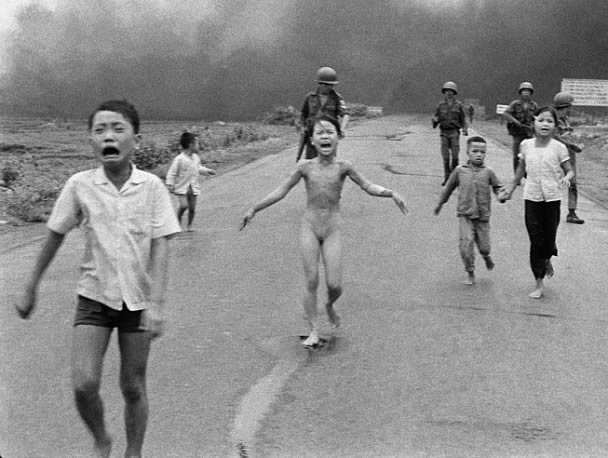 A napalm bomb was accidently dropped over a friendly territory in South Vietnam, 1972. Soldiers and petrified children are seen running away from the danger zone in this image, which appeared in LIFE magazine. Images like this remain forever imprinted into the minds of the audience which first saw them.
President Nixon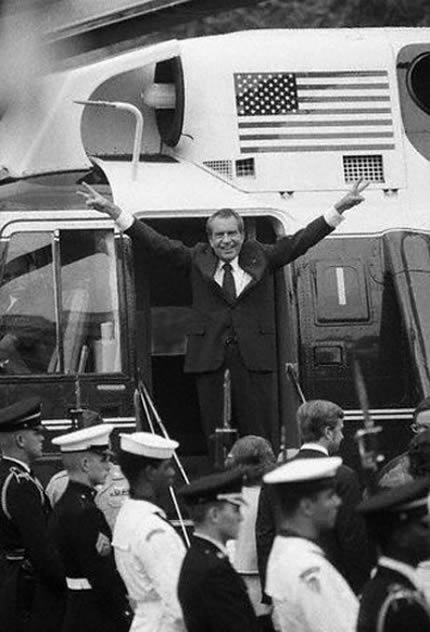 President Nixon standing on the steps of Marine One, waves to his fans soon after he resigned as President on August 9, 1974. No prizes for guessing the headlines across newspapers on the 10th Of August.
Tiananmen Square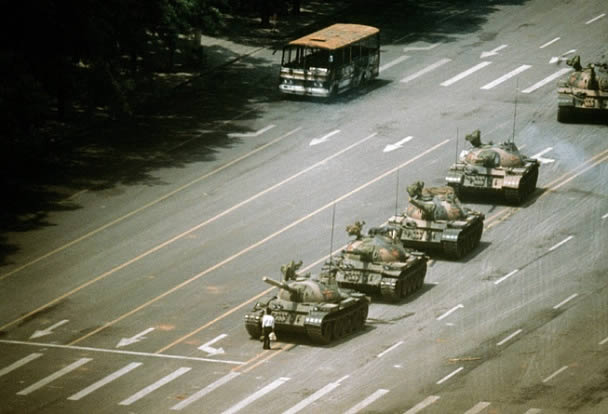 Tanks rolling into China's Tiananmen Square (Beijing). This came as a result of student pro-democracy protests in 1989.
Death In Africa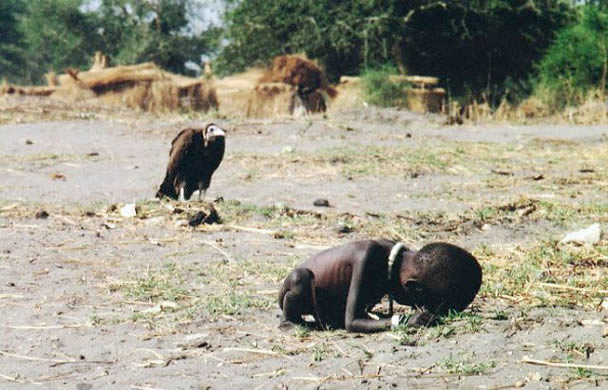 March 1993, Sudan. A vulture watches a starving, dying child, probably awaiting its death. The image was subject to much criticism, some condemning photographer Kevin Carter for taking a photograph rather than helping the child. Carter always maintained that he shooed the vulture away after he took the photograph. He won a Pulitzer Prize for this image. Interestingly, Carter committed suicide soon after…
9 11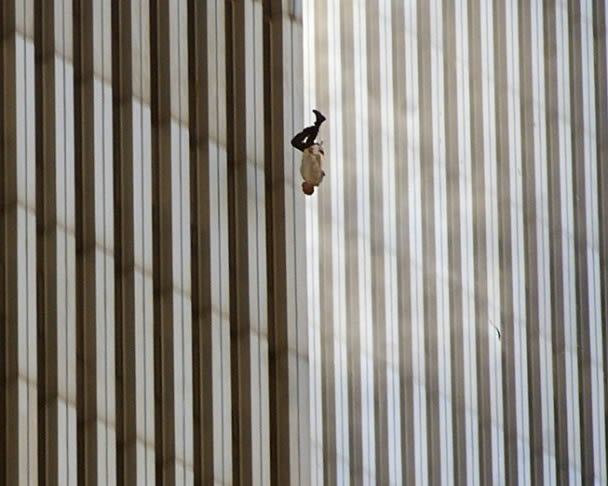 September 11, 2011. This day marked the worst terror attack on the United States. Here we see a person falling from the north tower of New York's World Trade Center, after an aircraft collided into it.
War Crime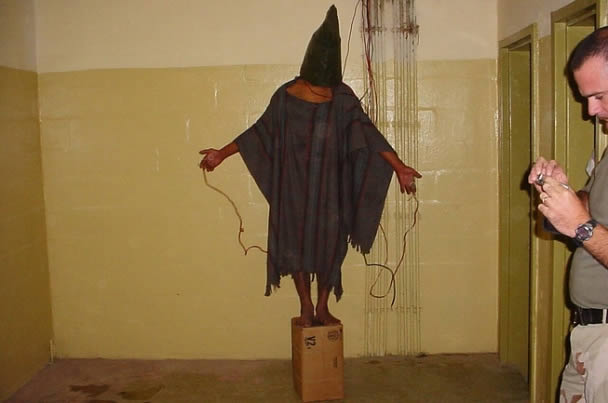 As a result of the terror attacks on American soil, the United States declared a state of war. The war against terror led to US forces establishing presence first in Iraq and then in Afghanistan. This famous image shows an unidentified (probably Iraqi) detainee standing on a box with electrodes attached to his palms, and a bag over his head. The image resulted in adding fire to an already growing feeling of ' the US taking things too far' in the Iraq region.
Hurricane Katrina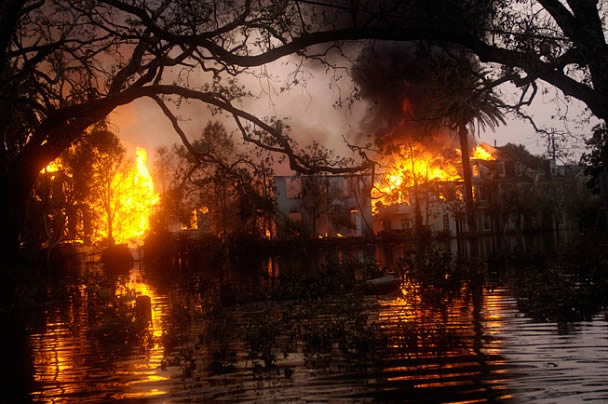 Hurricane Katrina was one of the most catastrophic natural disasters the United States has ever witnessed. Here we see the garden district at New Orleans being victimized by vandalism after the hurricane. Sept 4, 2005.
Source: http://www.pxleyes.com/blog/2011/07/25-of-the-most-influential-news...