Infiniti reveals Q30 hatchback before Frankfurt
As anticipation of this year's Frankfurt Motor Show mounts, automakers are in the final stages of preparing their new concepts for the discerning eyes of the buying public. After teasing us with a concept sketch, Infiniti has released images and information on the never-been-seen-before Q30. It looks good – think Mazda3 with some off-road capability.
Like the Mercedes-Benz A-Class with which it shares a platform, the Q30 doesn't really fit in a current "class" of automobile – at least that's what Infiniti is saying. It's in a class of its own; not a coupe, not a hatchback and not a crossover but a marriage of the three body styles (so, it's a Honda Crosstour? More on that later). But anyway, this thing is also said to break all barriers — so what, does it submerge, as well?
In the press release, Infiniti expressed high hopes that this coupe, crossover and hatchback will attract a younger audience. Infiniti's rival to the BMW 1-Series, the Audi A3, and – funny enough – the Mercedes-Benz A-class, is slated for production in 2015. It will be built exclusively in the U.K. at Nissan's Sunderland plant, reportedly creating 280 new jobs. While applauding Nissan's eager effort to compete with Honda, one can't help but wonder if history is hell-bent on repeating itself.
In 2010, Honda's un-categorical Crosstour was an attempt to make an Accord SUV, similar to how BMW introduced the curvaceous X6. But the 21,000 sales through July are pacing 38 percent lower for the year versus the model's first-year 2010 sales. BMW sold only 3,000 X6's through July, just under its 2012 pace, and it's not nearly as popular as the more practical X5. With these low volumes, will Infiniti be able to sustain the Q30? 
Perhaps, if the Q30 Concept's design, crafted materials, fit and finish, performance and sleek styling transfer to the production car. The Infiniti design team, led by executive design director Alfonso Albaisa, certainly hopes so, but only time will tell.  And heck, if it comes out anywhere near as fun to drive as the Nissan Juke is, you can count us in with smiles on our faces.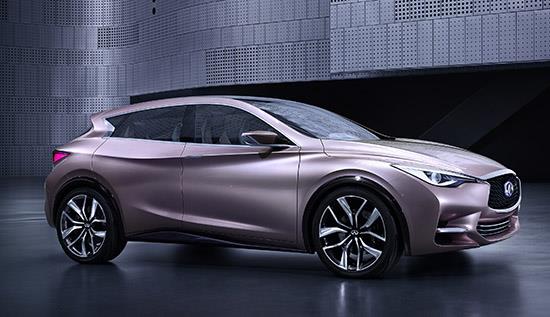 [Source: Infiniti]