We could compare a road-trip and the pressure it puts on your car to a long-distance, or even a marathon race and its effects on a runner. You simply can't finish unless you're well prepared. Otherwise, you'll either give up at some point or even cause some significant damage.
Breakdowns sometimes occur completely out of the blue, but it's much easier to deal with them if they happen during your regular commute, than hundreds or even thousands of miles from home and your mechanic. So, what is it that we can do to prepare our car for a road-trip?
Fluids
Every car owner knows how important fluids are and that we need to change them regularly, depending on the mileage and the conditions in which we drive. It's vital that you inspect your fluids before embarking on a long trip.
Start with oil, which lubricates the pistons and crankshaft, and check whether it needs replacing. Usually, it's recommended you change it every 3,000 to 5,000 miles. Also, check the fill level and oil condition using the dipstick. Black or gritty oil has to be replaced.
Brake fluid is equally important, since you want your brakes to function perfectly. Brake fluid transfers the pressure from the brake pedal to the brake pads, thus clamping the rotors and slowing down your car, which is why you need to be careful and react immediately if you notice that the pedal feels softer or doesn't respond immediately. This is one of the most common problems that each reliable mechanic will mention – people getting stranded because of brake fluid issues.
Transmission fluid is another crucial element, but it doesn't need replacing that often. Usually, it is done every 60,000 miles, though some cars now boast the so-called "lifetime" transmission fluid. Still, it's a good idea to check the state before starting your journey.
Power steering fluid makes it easy for you to turn the wheel easily at any speed and if you feel that your steering wheel is not that responsive any more, it could mean that the fluid has become contaminated. Refer to the manufacturer's manual for the info on how often you need to replace this fluid, but be ready to replace it around 24,000 miles.
Radiator fluid, a.k.a. coolant or antifreeze, is vital for keeping the engine cool. If the coolant level is low, your engine will overheat, which will lead to other more serious and expensive damages. Check the level regularly and be prepared to flush the system every 50,000 miles.
Windshield fluid may not sound as important as other fluids do, but you really want your windshield to be clean at all times, so that you can see where you're going. Adding the windshield fluid is easy and you can do it yourself, but pay attention not to go over the maximum level recommended.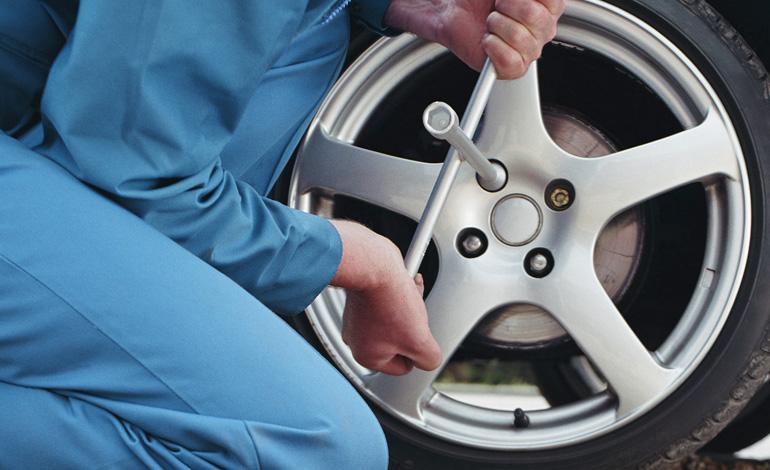 Tires
Having the right type of tires in good condition is crucial for safety, comfort and fuel efficiency. Depending on the season when you're planning to travel, you have to make sure that you have the correct type of tires. The pressure should be checked every 1,000 miles at least and before each longer trip, as well. If you are not that skilled with tire replacement, have a trusted mobile mechanic come to your home and do it for you. That way you'll' get on your way much quicker.
You can rotate tires between different locations to make them last longer, but you'd still need to replace them every 25,000 to 50,000 miles. Of course, you may need to do it even more often in case of puncture or sidewall bulge.
Other maintenance
Replacing filters, checking that all brake pads and light bulbs are working properly are among the things you should do before a road-trip. It's possibly the best idea to visit your mechanic a week or so before the trip, just to give them enough time to fix any problem that might exist and that you've not been aware of.
Looking after a car requires certain amount of attention and planning a long road-trip just adds more pressure. Still, you want to minimise any preventable problems from occurring and start your trip with as much reliance on your car as possible.