Auto makers pray for buyers' blessings during festivals
The near 10 per cent fall in car sales this year notwithstanding, automotive companies are pinning their hopes on the festive season. Ready with a series of launches and 360-degree promotional campaigns, firms are eagerly waiting for the season sales to begin, which generally account for 60 per cent of the annual sales.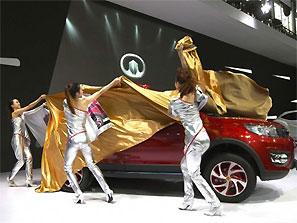 Discounts, freebies, finance schemes, improved advertising spends and high pitch brand promotion campaigns, especially in the rural areas, will dominate the scenes over the next few months after the end of the monsoon.

New launches will make the maximum marketing noise. More than two dozen new and refurbished car and SUV models and more than 20 two-wheelers are lined up for launch over the next four months.

"Whenever there is a difficult time, the visibility has to be more frequent. We did not need any advertising last year, but this time, we do. Advertising will be one big item this year," says a senior executive from Mahindra and Mahindra (M&M), the country's largest utility vehicles maker. Not only new models, but seasoned products are wearing a new look to entice fencesitters. For instance, new models of the Indigo CS, Nano and Sumo from Tata Motors will look to ride out of the slump.

Market leader Maruti Suzuki India, Hyundai Motor India, Nissan, Ashok Leyland, Fiat and SkodaAuto are among the host of companies looking at strengthening their product line-up through new launches and upgrades.

In addition to recently launched Maruti WagonR Stingray and Mercedes-Benz GL-Class, Hyundai Grand i10, Ashok Leyland Stile, Skoda Octavia, Nissan Terrano, Fiat Punto and Linea (refurbished), Jeep Wrangler and Cherokee are some of the models lined up for launch over the next few months.

While new models will expectedly win some traction immediately after launch, the fate of other small cars, sedans, SUVs and premium cars will primarily run on the company and dealer-backed consumer schemes.

At present, the demand slump has drawn companies to dole out discounts ranging from five to 18 per cent on the price of the car, in addition to lower loan rates, insurance holiday and free accessories such as music systems, floor mats and wheel cover, to name a few.

Ford's EcoSport mini-SUV is the only model, defying the slowdown, carrying a waiting list of three-four months depending on the market on the back of a robust demand. Almost every other model is available off-the-shelf, including diesel variants, which had a long waiting period a few months back.

According to industry estimates, in the run-up to the festive season, the value of discounts, which is already higher than those offered last year, may inch up only marginally from the current levels as there is upside pressure on margins, led by a depreciating rupee and higher fixed costs.

Kenichiro Yomura, president, Nissan India, said: "The market is bad, no doubt, and it will be exhausting if we are walking into a price war. We need to focus on how to get the customers' understanding about the value of the models."

A bountiful monsoon so far this year will likely lead companies to hit the rural trail as those areas are expected to reap the benefits from a healthy agricultural produce. Village road shows, extending the touch-'n'-feel quotient to more number of small towns and other brand awareness campaigns will be carried out in the rural centres, say executives of car and two-wheeler makers.

Maruti Suzuki's M800, Alto 800, Alto K10 and even the hatchback Swift has gained traction in rural markets, which now generate more than 30 per cent of all vehicles sold by the company in the country.

Pravin Shah, chief executive (automotive sector), M&M, said: "Rural India will bounce back. We are looking at the festive season and expect demand to be better than the first half. We will do market-led promotional activities suitable for the brand and the model."

Besides advertising, all companies have increased their focus on online and social media promotion for cost-effective benefits and extensive reach. Firms are running contest in the run-up to the launch on popular platforms such as Twitter and Facebook.

Marketing activities are starting five-six months before the actual launch of the model against the earlier norm of 15 days to a month. Japanese auto giant Nissan kick-started the campaign for the premium compact SUV Terrano a month ago. Its launch is scheduled for mid-October.

"The country is undergoing a significant period of economic uncertainty and volatility. Luckily, the monsoon has been good. Hopefully, this will translate into an increase in consumption mainly driven by rural demand. This would give the industry a necessary booster during the festival season. On the downside, questions regarding the balance of payment, as well as a prolonged period of government inactivity due to the pending elections, may lead to demand moderation even after a positive festive season" said Wilfried Aulbur, managing partner, Roland Berger.