In one of my college classes, my professor asked a student to pick five people at random. I was chosen as one of the five. We stood up in front of the class and my professor asked, "Which ethnic group isn't represented by these students?"  One of the students raised their hand and said, "There are no Hispanics in this group." I shook my head in annoyance and said, "No, I'm Puerto Rican!" Which was followed by, "Oh I'm sorry, you don't look Hispanic."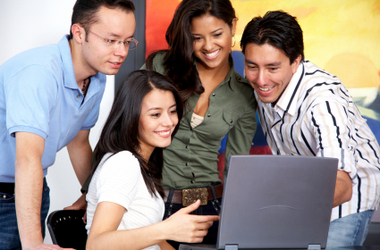 We all know race and ethnicity are touchy issues and just because I don't "look Hispanic" doesn't mean I am not. Yes, I am a 2nd generation Latina and I
am not disconnected from my family in Puerto Rico by any means. According to 
The U.S. Census Bureau, 
"Hispanic or Latino" is defined  as a  person of Cuban, Mexican, Puerto Rican, South or Central American, or other Spanish culture or origin regardless of race.
Between 2000 and 2010, the Hispanic population increased 43%; now one out of every six Americans in the U.S. is Hispanic according to 2010 US Census data. Moreover, the spending power of Hispanics is forecasted to increase 50% by 2015, from $1 trillion in 2010, to $1.5 trillion, according to the report.
What does that mean for U.S. Dealerships?
Hispanics are a growing force in the U.S market and dealerships need to learn the best ways we are to be marketed to in order to receive a piece of the 1.5 trillion dollar pie. For example, in the US, Hispanics are more likely than African Americans and Caucasians to log in to various social networking sites on a daily basis or more often, according to a new American Pulse Survey from BIGinsight. Among online adults surveyed, Hispanics are roughly three times more likely than Caucasians to log into LinkedIn at least daily (15.5% vs. 4.8%), and they are more than two times more likely than Caucasians to log into Twitter (35.4% vs. 12.6%).
In order to capture the attention of the 60% who log in to a social media platform once a day, target your daily Tweets, Facebook, and LinkedIn messages to the collective family oriented culture Hispanics have.
Understanding the Hispanic Culture:
Below I've highlighted some differences between Western and Hispanic cultures:
| | |
| --- | --- |
| Western Culture | Hispanic Culture |
| Individualistic | Collective |
| Assumption that happiness can be bought | Mindset and outlook remain steeped in the folklore and culture of more agrarian (agricultural) societies |
| Ownership of goods could, in itself, make people happy | Less materialistic more emotional, intuitive, and ritualistic |
| Reflects Western science-based thinking and uses analytical tools to make purchases | Centered on tight-knit communities telling stories, word of mouth, and trust to make purchases |
For 2nd and 3rd generation Latinos, let's not forget, our parents came to the U.S. to provide a better future for their kids. My father, for example, joined the military to provide a better future for my brother and I.  Any content that speaks to empowerment—whether it is focused on education, self-expression, scholarships or cultural energy—will usually grab our attention..
Generally speaking, Lations buy to enhance their experience with family and community. Chanin Ballance,  co-founder of ViaLanguage, explains "Their decisions are based on cultural norms and word-of-mouth. Their brand loyalty is high compared with that of Anglos, and passes from generation to generation."
As Felipe Korzenny, Ph.D., Director, of  Center for Hispanic Marketing Communication at Florida State University states, " A first mover advantage is available for those that devote the time and resources to engage these critical audiences in ways that they find meaningful... companies that deliver value to this segment today will be rewarded with the long term loyalty of this market." In other words, speak to the heart of this culture in order engage your Hispanic customers more successfully.
Dealer Take Away:
1. Understand what defines the Hispanic Culture: Remember, we are defined  as a  person of Cuban, Mexican, Puerto Rican, South or Central American, or other Spanish culture or origin regardless of race.
2. Family Matters: We are a collective culture which means family matters to us so tap into this emotional appeal.
3. Avoid stereotypes/prejudices:  I hate it when someone tells me that I don't look Hispanic, so don't make this mistake with your customers. Again, we have many races in the Hispanic community which means we don't all "look Hispanic".
4. Show diversity in your ads: Because we are a diverse culture,diversity draws our attention and we love it!
5. Update your Social Media daily (Facebook, Twitter, etc..): This is the #1 Social Media Rule all dealers should be following. Whether or not you are targeting Hispanics, you should be updating your social media sites with content that stimulates feedback and sharing.
6. Be authentic: Whether it is a spokes person you choose or a print ad you have in the paper, your marketing efforts should promote trustworthiness and dependability.