Consumers have been showrooming in retail stores for quite some time now and, while many retailers don't like it, they've pretty much resigned themselves to the fact that it's going to happen.  However, one surprising argument posted in an article by speaker, trainer and consultant, Bob Phibbs, went so far as to make the claim that showrooming is akin to stealing.
In his article, he explained that while consumers conduct a large part of their research online, they still love to touch, feel and physically look at products, which they cannot do on the Internet. His viewpoint is that retailers spend tons of money to have nice stores, great product displays, staff and inventory. Then they see consumers come in with the express intent to research the product they are interested in, just to leave and buy it for a better price elsewhere, or online.
Along the same line of thought, one disgruntled retailer chose to take this route in attempt to combat showrooming:
Isn't this being a little small minded about where commerce is truly headed?
To be successful in business we must all be willing to change and adapt with the times to some degree, or get left behind.  This extreme measure by the retailer will probably serve to deter more business than it gains. Can you imagine having this in your car dealership? 
Wouldn't it be better to provide free Wi-Fi, and a great shopping experience and win customers over while they are at your dealership, rather than drive them away with unfriendly business practices?
The fact is that showrooming is here to stay -- it has become a natural part of consumer shopping behavior. Rather than trying to fight it, it perhaps makes more sense to explore ways to embrace it and use it to our advantage.  Think about it, the bottom line is that this practice could actually be driving MORE leads into your dealership, if you're competitive in the marketplace. Perhaps the point is how you handle these leads once they arrive!
EDITOR'S NOTE:
The Showrooming Article that David Metter references in his first paragraph is reposted below for your convenience...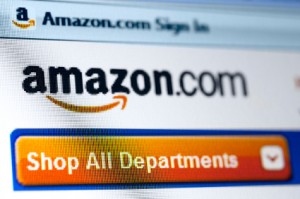 Showrooming occurs when customers at a brick and mortar store, after having physically touched, smelled, lifted, handled, and most importantly priced your products in person, go online through their smartphones and comparison shop - most often to Amazon.
It's one of the risks I've addressed in my manifesto.
Showrooming to brick and mortar retailers is akin to stealing.
Whether customers do it in the privacy of a deserted aisle, in front of your best employee or in the parking lot walking back to their car, showrooming is causing a lot of executives a lot of worry.
Customers walking into your store no longer are "just looking," they're taking your hard-earned reputation, using all the beautiful displays, premium products and employees to cancel out any suspicions they have before they buy online.
To shoppers, it's smart shopping.
To cellular companies it is the reason they can sell the more expensive smartphones.
To Amazon, it's just business.
Once your customers go to Amazon, they're hooked. Cosmetics? Groceries? Gourmet Coffees - even wine? Amazon will let them setup an auto-order for refills.
Once your customers purchase, Amazon does a swell job of showing them related items meaning they have even less reasons to go back to your brick and mortar store.
So how does your store open the door for them to go to Amazon or other online retailers in the first place?
Thirteen Reasons Your Brick & Mortar Store Is Susceptible to Showrooming
Your merchandise is stacked and displayed like everyone else's. When the merchandise is seen as nothing special, online sites beckon.
You don't have enough employees. When it's tough to find someone to answer your questions, the customer's smartphone is always-at-the-ready for a quick Amazon price check.


The employees you have take too much time with one customer. It's great to have technically proficient employees whose passion is knowing every nuance, and who can regale the customer with story after story, but like a restaurant, your selling floor needs to turn customers regularly.


The employees you have take too little time with customers. Employees who say, "It's over there," or "I'll get someone" might as well say, "Find it yourself." When there's no relationship, there's no loyalty to shop with your brick and mortar store.


Your employees have no bond to your business. When your employees don't value making the sale as necessary for a profitable business, they are just as likely to let the customer walk.


Your employees stay clustered around the registers "waiting." When customers feel like they are interrupting an employee clique, they will feel awkward.


Your shopping experience is unremarkable. If a customer gets the silent treatment and only is talked to at the cash wrap, they don't get a good feeling from their purchase.


You let customers help themselves with self-service. If you designed the store for customers to feel free to help themselves, they will now feel free to help themselves … with their smartphones.


You don't respect your customers. When you don't respect the fact customers go out of their way and spend their limited time to get to your brick and mortar store, you treat them with indifference. Indifference costs you sales.


You think competing with Amazon just means "matching prices." But denying that your real costs are more than Amazon's, you're just digging your debt deeper with every sale.


You have an owner or stockholder who doesn't want to lose any business. They want you to offer any discount it takes to keep all customers. The best merchants know you have to walk away from unprofitable customers in order to remain profitable.


Shopper behaviors are changing. Since customers have been conditioned to know there's always a sale somewhere, they will look for it online to keep from paying your price.


Customers assume everything online is the same as yours. Unless your employee shows the value of the real thing in your store, customers might be misled to buy something online at a lower price that could be counterfeit, damaged or mismatched. If your employees aren't trained to poke holes in online shopping habits, customers may purchase apples when they wanted oranges.
Unless you personally take the initiative to stop showrooming, you'll be a victim of it.
Why? Because Amazon does so well and many brick and mortar stores add no extra value to the shopping experience. It does all just become price.
Customers walking into your brick and mortar store still want the warm feeling they get from shopping, from feeling the products, the ambiance of your store, the warmth of your employees. That can't be had with a computer screen, mobile device or virtual anything.
Customers may be shopping less but when they decide to spend that money they are more sensitve than ever to indifference from the retailer and their employees.
Amazon and other internet sites will continue to grow as stuck brick and mortar retailers refuse to look in the mirror and change.
The chance to make a powerful impression and disarm the smartphone in your customers' pocket is yours but it will take work to mitigate these thirteen reasons why your store is open to being showroomed.
I've added a new speech, How Not To Be A Showroom For Amazon that will share the strategies and tactics your association, chain or store needs to compete.