How to Measure Return on Investment in Automotive Social Media Marketing and Reputation Management for Car Dealers
What follows is adapted from, edited, and in some places revised version of Brian Solis's post on Mashable titled; "The Maturation of Social Media ROI"
Over the past couple of years, there have been several self-proclaimed Automotive Social Media experts (Cliff Banks has an interesting term for this clique) who have attempted to redefine Automotive Marketing ROI to accommodate dealership's spending money on "New Media" in the emerging Era of Influence. While several of these Automotive Social Media Gurus introduced car dealers to alternative philosophies for measuring the nuances tied to social media marketing, others published blogs and printed sales materials for their services, widgets and social media gadgets that put forth the proposition that conventional ROI measurements simply aren't necessary... Or, that the tools and methodologies for analyzing yields from car dealer investments in Social media Marketing didn't exist (yet).

Some of the auto industry's social media pundits have suggested that focusing on an ROI based justification and reporting metrics would have a negative impact... Such activities would distract car dealers and OEM's from the primary objective of building stronger relationships with automotive consumers by cultivating dialogue within the social web.
The ongoing debate within the auto industry over ROI has inspired more than a few car dealers and enterprise class organizations to cannonball into popular social networks... In some cases rushing headlong into Facebook and Twitter to join the conversation without a tactical blueprint, planning or documentation of any strategic objectives.

Meanwhile, for many car dealers, automotive digital marketing organizations and advertising agencies, the lack of generally accepted reporting metrics, ROI calculation standards and established benchmarks spooked their key decision makers, thereby preventing pilots, proofs of concept and other experimentation until such measurement and analytical questions and concerns could be better addressed.
But that was 2008 and 2009... What has happened so far in 2010?
In 2010, driven by thought leaders such as Ford Motor Company's Scott Monty, Autonation's Gary Marcotte and Stephen Higgins and even several members of the Automotive Digital Marketing Professional Community, the auto industry's marketing professionals generally began to enter into a new era of social media marketing based on information, data collection, measurement, cost-benefit rationalization and a generally pervasive resolve to move towards the establishment of generally accepted Return On Investment (ROI) performance metrics.
Along with this trend, Automotive Social Media Marketers now acknowledge the need for clarity in a time of increasingly abundant supplier provided options, contrasted by a scarcity of automotive social media experience and benchmarks. For both myself and my team at ADP Social Media Reputation Management, we report to dealer clients, car company executives and ADP/BZ Vice Presidents who have no desire to hear about intangible credos rooted in warm and fuzzy concepts such as "full transparency" and "social authenticity". In the end, our dealer and OEM clients simply want to calculate the Return on their Investments in my team's services and associate Automotive Social Media programs with real world performance metrics that can be directly associated with new and used vehicle sales, parts and service revenue.
During the past three years the auto industry's social media thought leaders have explored many different facets of the social web, using creative new ideas driven by a passionate desire to find new meaning and vindication of our time and energy spent on the uncharted regions of automotive social media marketing and reputation management practices for car dealers. These experiments, initial campaigns, pilots and proofs of concept have led to discussions amongst all the various stakeholders in the auto industry. This in turn has sparked more innovation by automotive and digital marketing professionals such as Philip Zelinger, Brian Pasch, Gary May, Adam Boalt, J. D. Rucker, Tim Jennings, David Harris, Micah Birkholz, Jim Jensen, Gary Weinberg and many others... These innovations have led to redefining the framework previously used for more traditional advertising campaign metrics, creating new types of marketing measurement and reporting hybrids that are already becoming an important part of modernizing automotive marketing and dealership business practices. In some cases, our industry's emergence of social media strategies and tactics has led to improving our sales processes and the services associated with the vehicles we sell.

This is an important factor when considering the ROI from Social Media strategies and tactics... Will these initiatives empower and/or enable our dealerships and dealer clients to compete more effectively in their relevant marketplaces, both today and in the future?
When I listen to general managers and dealers repeatedly describe new and used vehicle sales to people who traveled from outside the dealership's marketing area for the express purpose of buying a vehicle from that particular dealership... Such as in the following anecdotal but accurate descriptions:
Washington State Chevy buyers that are Rodeo Fans read blog about former PRA Rodeo athlete working as a salesperson at the dealership (over a dozen deals)

Over 50 Texas Nissan buyers in 6 months that are "Dog People" have read blogs about dealership's mascot, an adopted female stray that guards service department storage lot from racoons, decided to go out of their way to do business there

Over 100 Massachusetts Honda buyers that read about a dealer's commitment to the local community expressed in charitable fund raisers, youth events, enthusiast meets and college scholarships have gone out of their way to buy cars there
4 to 6 California Ford buyers travel past more than half a dozen other Ford dealerships on their way to get a new or used Ford vehicle from a dealer who has over 50 Customer Reviews published online, and syndicated out to dozens of blogs
Over a dozen car buyers each week travel from all over Colorado to buy a used vehicle from a Denver area independent dealership because of their customer reviews, videos and slide shows posted in the dealer's social network showcasing dozens of hand written comment cards in the customer's original hand writing

New Marketing Principles Arising from Automotive Social Media

ROI: The Return on Ignorance
Where the "I" in ROI usually represents return on INVESTMENT, many savvy automotive marketers have explored additional monetization elements to better address the impact of opportunities derived by dealers and car companies from the application of "Web 2.0" and "User Generated Content" technology to media, marketing, and the resulting dynamics of "Customer-to-Shopper-to-Dealer" (CSD) engagement within the social web.
These Adaptations have included:
Return On Engagement – the duration of time spent either in conversation or interacting with automotive social objects (widgets), and in turn, leads or contacts that transpired and are gauged as worthy of measurement.
Return On Participation – the metric tied to measuring and valuing the time spent by automotive consumers participating in social media through conversations or the creation of social media content.
Return On Involvement – similar to participation, automotive social marketers measured touchpoints for social media driven interaction and tying those metrics to the propensity of revnue based return of each point.
Return On Attention – In the attention economy, we assess the means to seize attention, hold it and as such measure the automotive consumer response activities that result
Return On Trust – A variant on measuring dealership customer loyalty and the likelihood for referrals, a trust barometer establishes the state of trust earned in social media engagement and the prospect of generating advocacy and how it impacts future business.
Going forward in the automotive social media space, as we learn through experience, the industry's views and techniques will continue to mature into more sophisticated strategies. As Brian Solis states, this occurs as the auto industry progresses through the Ten Stages of Social Media Evolution.
For many car dealers and OEM's, the case for new metrics cannot be effectively established until we have an intrinsic understanding of how social media engagement affects the auto industry at every level. Although we measure such things, it is not as simple as counting an increase of YouTube subscribers, Twitter followers, Facebook Page fans, Dealership Community Members or conversation volume, reach, and traffic. While the size of the corporate social graph is a reflection of our campaign effectiveness and the yield from our social media strategy and tactics in regards to participation behavior, it is not a direct correlation to our dealership's brand stature, resonance, ability to drive loyalty, automotive buyer referral advocacy, nor is it a direct indicator of business performance.
ROI: Return on Investment
Sometimes we simply need ROI to signify a meaningful return on the investment of time and money into automotive social media marketing and reputation management practice.
In 2010, Social Media endeavors are still funded as pilot programs to steer the brand towards perceived relevance in the hopes that they demonstrate momentum and as such, rewards materialize. Budgets are for the most part, borrowed from other divisions to fund the teams and programs lead by the internal champions who effectively make the case
for experimentation. Where that money goes and from where it's borrowed varies by department and by company usually tied to where champions reside internally today.
In many cases however, new programs are introduced without an integrated strategy. Money is allocated from existing programs, and if we're going to take it away from something, we should therefore determine whether or not we're justified in doing so.
According to a 2009 study performed by Mzinga and Babson Executive Education, 84 percent of professionals representing a variety of industries reported that they do not measure ROI.

Source: eMarketer
In 2010, executives are demanding scrutiny, evaluation, and interpretation. Even though new media is transforming organizations from the inside out, what is constant nevertheless, is the need to apply performance indicators to our work.
The Business of Social Media
The Dealer Principal, General Manager or Marketing Director of any dealership or dealer group would be remiss if they did not account for spending and resource allocation, regardless of the allure and seduction of social media.
MarketingProfs recently published a study performed by Bazaarvoice and the CMO Club that revealed the true expectation of chief marketing officers.

Bottom line, they want measurable results from social media.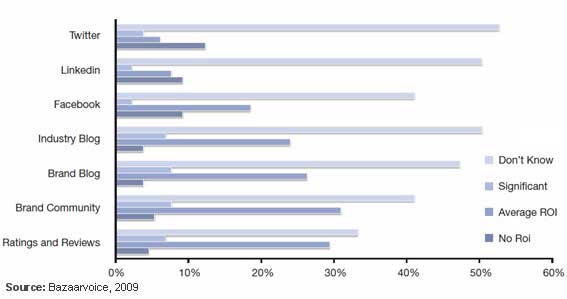 Elusiveness continues to prevail however. The study found that the exact impact of social media tactics evade the grasp of CMOs.
- 53% are unsure about their return on Twitter
- 50% are unable to assess the value of LinkedIn or industry blogs
More specifically however, roughly 15% believe there is no ROI associated with Twitter and just over 10% cannot glean ROI from LinkedIn or Facebook.
I believe this is the direct result of not tying activity to an end game, the ability to know what it is we want to measure before we engage. Doing so, allows us to define a strategy and a tactical plan to support activity that helps us reach our goals and objectives.
We must first answer; What is it we want to change, improve, accomplish, incite, achieve or whatever?
Doing so will allow us to establish goals and objectives that specifically tie activity to:
Vehicle Sales
Service Appointments / Repair Orders

Customer Registrations
Sales and Service Referrals
Links (the currency of the social web)
Votes (Video and other content)

Reduction in costs and processes
Faster Customer Concern Resolution

Decrease in customer issues
Lead Generation
Conversion of Site Visitors to Customer Data Received

Reduced Sale and Service Cycles
Attendance at Dealer Sponsored Events
Funds Raised for Worthy Causes
Traffic to Dealership eCommerce Sites
Inbound Activity; Phone and Showroom

Customer Insight
Among the responses received from the dealers we asked, customer ratings and reviews rose to the top of marketing activities that deliver tangible ROI in the form of vehicle sales and repair orders written.

In 2009, 80% of respondents reported that customer stories and product suggestions shape products and services. As a result, we now know that dealers can earn the trust and loyalty of their customers for listening and responding – as long as they are made aware of their role and rewarded for it.
In 2010, Dealers and Car Companies are engaged in creating ever more creative ways and social web based opportunities for user-generated content sources to involve customers and advocates with many reporting:
400% increased use of Twitter to inform decisions about products and services
59% increase in the use of customer ratings and reviews
24% increase in use of social media for pre-sales Q&A
The Socialization of Monetization
Social media metrics have been increasingly tied to revenue in 2010. To what extent seems to vary according to the dealer or the car company.
80% predict upwards of 5%
15% optimistically hope for 5-10%
In 2009, those companies that aligned social media investments with revenue estimate:
If 5% or less revenue was tied to social in 2009; foresee an increase in revenue of an additional 5% in 2010
If 6-10% of revenue stemming from social in 2009; expected to increase revenue by more than 10%
Those companies reporting greater revenues resulting from social engagement in 2009 expect an escalation of revenue derived from social at 20% in 2010

Companies such as Dell are not only tracking the impact of
Social Media on revenue
, but expanding lessons learned across the entire organization.
According to Dell's Lionel Menchaca:
Our @DellOutlet is now close to 1.5 million followers on Twitter, and back in June we indicated that @DellOutlet earned $3 million in revenue from Twitter. Today it's not just Dell Outlet having success connecting with customers on Twitter. In total, Dell's global reach on Twitter has resulted in more than $6.5 million in revenue. In fact our Brazilian and Canadian accounts are growing rapidly too – and it was Canadian tweeters who asked to make sure Dell Canada came online to Twitter. Dell Canada responded because the team heard our customers. In less than a year, @DellnoBrasil has already generated nearly $800,000 in product revenues. Similarly, @DellHomeSalesCA has surpassed $150,000 and is increasing at notable pace.
The Forecast for Social Media Metrics going into 2011
Earlier we mentioned generic forms of Social Media metrics. The survey revealed that indeed, many dealers, car companies and CMOs (89%), tracked the impact of social media by traffic, pageviews, and the size of their social graph or communities. However, 2011 will be the year that social media graduates from experimentation to strategic implementation with direct ties to specific measurable performance indicators.
In 2011, Dealers and Car Companies will seek to establish a connection between social media and Financial Statement based business goals. The same study cited previously documents the adoption of three metrics:
333% surge in tracking revenue
174% escalation in monitoring conversion
150% increase in measuring average order value
A Call To Action
Among the most effective forms of any marketing initiative is the integration of a call to action. It is how I define influence as it gives us the ability to inspire activity and measure it – as designed.
As stated earlier, revenue is only one form of metrics we can introduce, but defining the "R" in ROI is where we need to focus as it relates to our business goals and performance indicators specifically. Even though much of social media is free, we do know the cost of engagement as it relates to employees, time, equipment, and opportunity cost (what
they're not focusing on or accomplishing while engaging in social media). Tying those costs to the results will reveal a formula for assessing the "I" as investment.
When we truly grasp the ability to define action and measure it, we can expand the impact of new media beyond the Financial Statement. We can adapt dealership business processes, inspire ingenuity, and more effectively compete for the future.
Adapted from original article written by Brian Solis
Source: http://www.briansolis.com/2010/02/roi-how-to-measure-return-on-inve...