It's been a while since I last experienced shopping for a vehicle. And I have to say, it's nice being in the driver's seat, seeing things from a consumer's perspective.
My wife Christine and I just bought a pre-owned 2014 Honda Pilot to replace her 2013 Honda Accord that had been totaled by a drunk driver a few weeks ago. She was stopped at a red light… Folks, wear your seatbelts!
Fortunately, she escaped any major injuries, but her car did not. Given the circumstances, we were forced to expedite the vehicle shopping/buying process. It was only 2 weeks from the day Christine's Accord was totaled to the day we signed paperwork at the dealership for her Pilot.
Though our path to purchase looked much different than the average consumer's, with less hours of research, fewer digital touchpoints, and only one dealership visit, there were still many valuable insights gained along the way. In fact, flying through all stages of the journey really helped identify which parts of the vehicle shopping process are effective and which areas need work.  
Here are the top takeaways from my recent shopping experience:
1. Market value should live on all SRP and VDPs
Sure, consumers could look up the market value for each vehicle of interest on a 3rd party research site such as Kelley Blue Book or Edmunds. However, access to this information directly on the auto portal or dealership's SRP and VDP pages is much more powerful, tying market value to the exact, VIN-specific vehicle. Not only is this valuable for the consumer, but also for your business by keeping your website visitors engaged and minimizing cross-shopping on your competitor's websites.
CarGurus and Cars.com both do a great job of utilizing this information to indicate the value of each vehicle listing with arrow markings. Christine and I were quickly able to identify the going rate for a used 2014/2015 Honda Pilot EX-L with 40-50k miles and find which dealerships were offering the best deals.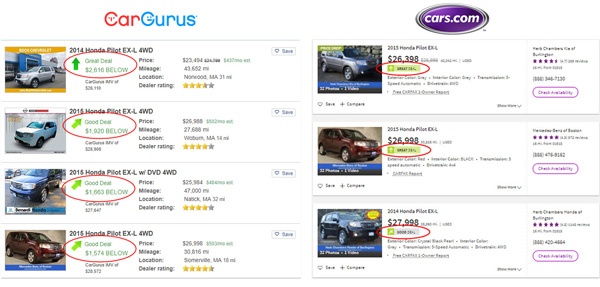 If your website does not have this feature, you should highly consider integrating KBB's "Fair Purchase Price" or Edmunds' "True Market Value" data to power a similar tool.
2. Trim comparison would have been helpful
I think it's safe to say that the average consumer doesn't know all the differences between vehicle trims. I work with vehicle data on a regular basis and still had questions about the different Honda Pilot trims.
Giving consumers the ability to compare trims within each model would be incredibly helpful and really add value to the overall user experience. This would be another great tool to make available on both your SRP and VDP pages.
Shameless plug: DataOne offers a vehicle comparison API that supports both model and trim comparison. Learn more about PerfectFit® Compare.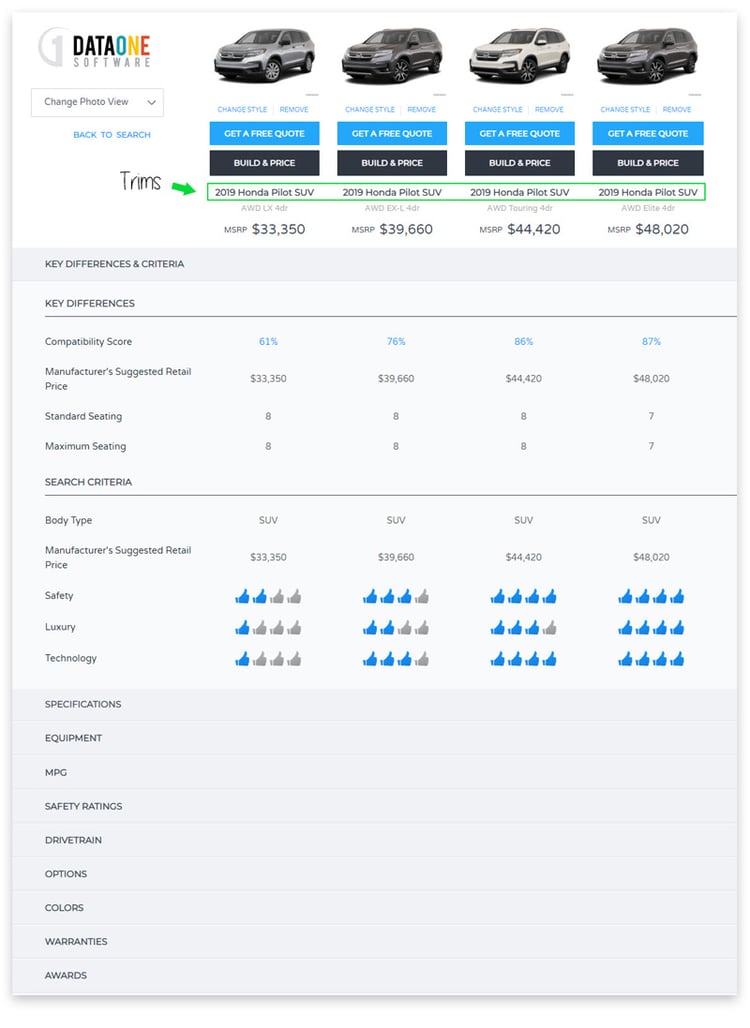 3. Consistently bad online reviews destroy reputation
We found a great deal on a Honda Pilot at a dealership about 40 mins from our house and submitted a "contact dealer" form. Neither of us had heard of this dealership, so I looked up yelp reviews before setting up an appointment. Good thing I did, because they had a 1.5 star average rating from 69 reviews. "Worst experience," "1 star because 0 wasn't an option," "Should have checked yelp before I went here."
We immediately discredited this dealership and moved on to the next options. Consistently bad online reviews will destroy your dealership's reputation and even the best prices won't help at this point.
If your dealership is in a hole with an overwhelming amount of negative reviews, take the time to read the feedback and make changes. Reply to each of these reviews and offer a solution for future vehicle purchases. It's also worth mentioning that fake reviews are not a good way to offset your bad ratings and will end up digging your dealership a bigger hole. Give your customers a great experience and encourage them to write a review following their purchase.
4. The recon and inspection process should be completed before showcasing used inventory
Used vehicles are expected to have some character from the previous owner (dings, nicks, scuffs, scratches), but why not buff out as many surface scratches as possible, wet sand and touch up deeper scratches, and give each vehicle a thorough detail before showcasing them online and on the lot?
Christine and I made sure we went to a dealership that not only had a great reputation, but a handful of used Honda Pilots on the lot in case one of them wasn't as we expected. We were surprised to find that many of them had not been thoroughly reconditioned yet. One of them hadn't even gone through the multi-point inspection process and several lights were popping up on the dashboard. Turns out the alerts weren't anything serious.
Although we ended up finding a Pilot that met our expectations at this dealership, there were a couple times during our visit that we considered checking out another dealership.
There's no sense in raising unnecessary red flags. Complete the recon and inspection process before listing and showcasing your used inventory.  
5. Cosmetic wear transparency builds trust
As mentioned in my previous point, used vehicles are expected to have some cosmetic wear. Unfortunately, it's difficult for consumers to know exactly what they are walking into exclusively from online photos. This is why it's a great idea to set realistic expectations right out of the gate. On every other used retail platform (Ebay, Craiglist, Facebook Marketplace, etc.), most sellers highlight the imperfections of their sale item(s) within their images. Dealers should do the same thing with their inventory.
Carvana is a perfect example of a used vehicle retailer who highlights cosmetic wear right in their images with yellow triangle warning signs, and provides zoomed-in pop-up images for a detailed view of each imperfection.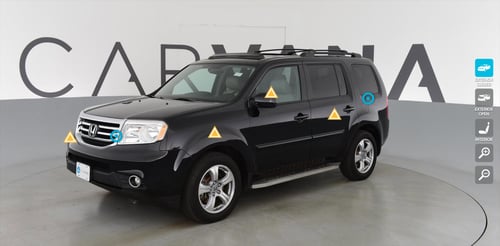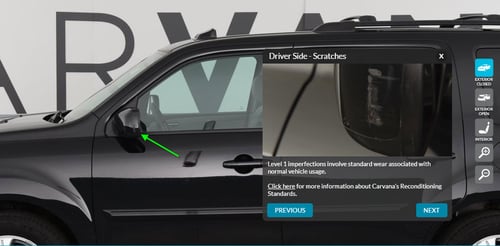 Dealer E-Process, one of the top dealer website providers, has also just recently rolled out their  RESSponsive 3.0 product  that includes hi-res vehicle images w/ hyper zoom technology. This allows shoppers to see every last inch of each vehicle. Full transparency of used inventory not only sets realistic expectations for your consumers. It builds trust for your dealership.
6. Real-life text messaging contributes to a great customer experience
The salesman who sold us our Pilot called me from his personal phone a couple days later for an update on the status of our insurance check and was unable to get through since I was at work. In his voicemail, he noted that we were welcome to text him for any future correspondence if we preferred. This was awesome!
Everyone texts… even my parents. If texting isn't already a common method of communication for your dealership, I'd recommend making it. You're probably using some type of automated text message notification system already, but personalized text messaging might be the most effective and convenient way to communicate with your customers.  
7. Remarketing ads are great in moderation
Remarketing is an excellent way to bring consumers back to your website with relevant offers if they didn't convert the first time, but it can also be challenging – maybe even more so in the automotive retail space – with varying shopper behaviors.
It's been a few weeks since we purchased the Honda Pilot and I finally stopped getting remarketing/retargeting ads within the last couple days. This is largely due to cross-shopping on multiple research sites, as well as a disconnect between online/offline and multi-device (desktop and mobile) vehicle shopping activities.
Using our path to purchase as an example, here's why remarketing was particularly challenging for the portals we researched on.
We visited 3 auto portal sites and only converted on one of them. The other two portals had no way of knowing that we were now in the consideration stage of the buyer's journey.
We called ahead to make an appointment before visiting the dealership we purchased from. However, this couldn't be tracked because we called from Google rather than clicking the hyperlinked phone number on the portal's site.
None of the auto portals knew that we had purchased our Pilot shortly after and were no longer in market since the dealership didn't close the loop.
So what's the solution? Unfortunately, It's impossible to make remarketing relevent for everyone, but to avoid harassing the majority of your shoppers – especially those further along in the process – make sure you limit the amount of days your remarketing ads fire and cap their frequency.
Here's a great article from Wishpond on remarketing best practices if you wish to learn more.
8. Free accessories go a long way
Give away accessories? But, profit margins!
Yes, accessories are very profitable for dealerships, but returning customers who refer their family and friends make dealerships even more money. Our salesman threw in a set of all-weather floor mats for free… after we had already purchased the vehicle. This was not an added perk to close the deal, it was a nice gesture.
You better believe that we will highly consider going back to this dealership for our future vehicle purchases. After all, my car isn't too far from kicking the bucket. These floormats were a pretty inexpensive way of making a very happy customer and brand evangelist.
Every consumer is different and has a unique path to purchase. However, executing on each of these points will improve the shopping experience for most, if not all, of your potential customers. Start working on the areas where your business falls short and you will notice a boost in meaningful shopper interactions that drive sales and build a strong customer base.