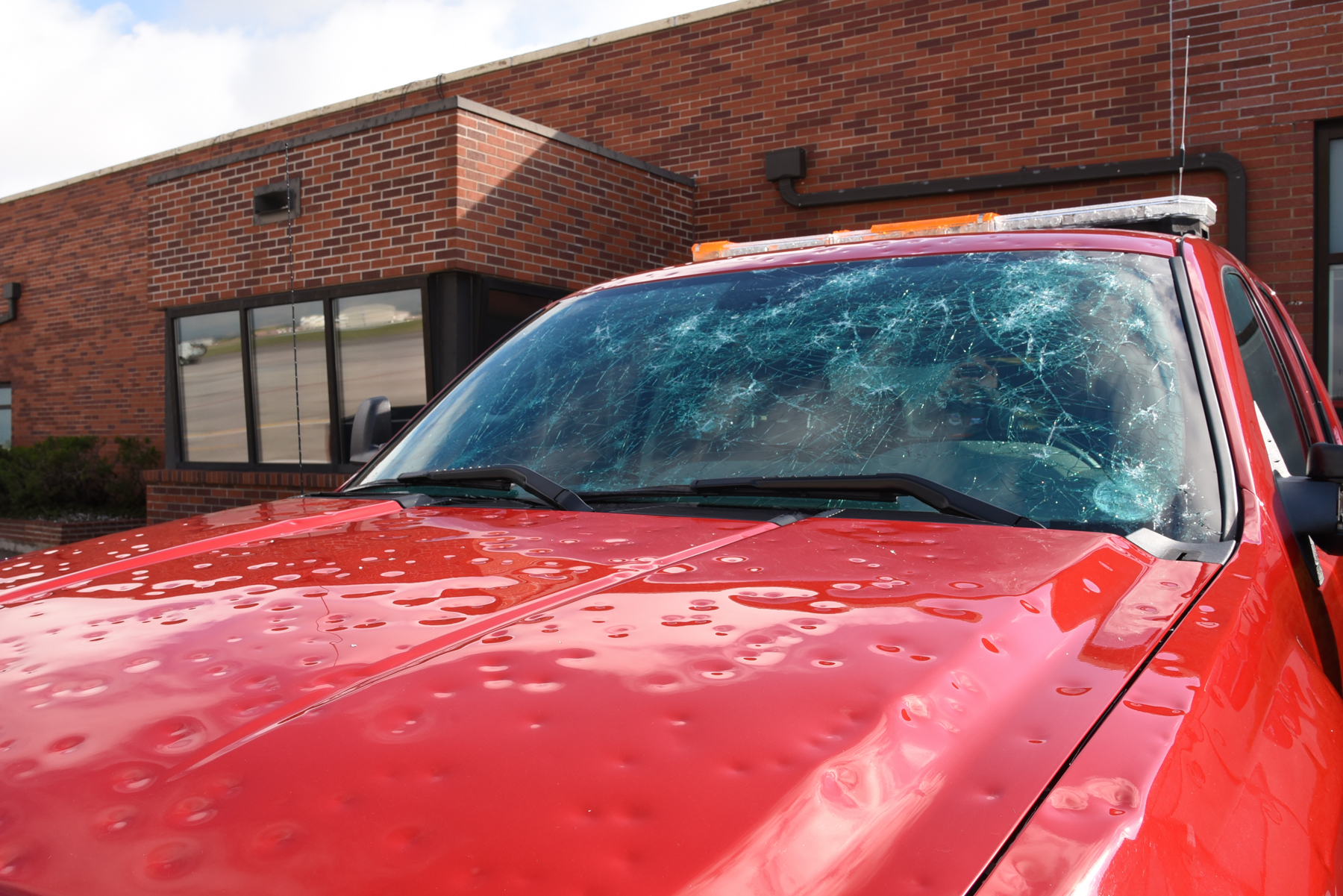 Even if you generally follow local weather advisories, sometimes hailstorms catch people off guard. Whether you were driving when a hailstorm hit, or were away from your vehicle, it is understandably upsetting to hear the ice stones falling. It is even more upsetting to discover damage to your home or vehicle. Read on for some helpful tips about what to do for your car post hailstorm.
Check for Damage
Wait to check your vehicle for damage until after the hailstorm has completely stopped. Your health and well-being are the highest priority so seek and remain in a sheltered area at all times during the storm. When you do assess damage, be particular vigilant in looking for dents to the vehicle body and cracks and breaks in glass.
Contact the Insurance Company
If you discover damage, file a claim and include the date, time, and location of the weather incident. If your vehicle shows cracks in the glass, move it to a covered area such as a garage or carport. If one is not available, use a car cover, old blankets, or towels to cover the damaged area and prevent further damage due to exposure to the elements. An insurance adjuster will need to assess damages before scheduling any necessary repairs. Keep in mind that while most comprehensive policies cover hailstorm damage, future premium payments may still rise. Fully read policy information or speak to an insurance representative for specific details.
Pursue Dent Repair
When the insurance company has given the green light to move forward with repairs, locate a reputable repair shop and inquire about turnaround times. Quality repairs, like those from companies like DMG Paintless Dent Repair, leave vehicles looking clean and new. However, before you leave the repair shop be sure to complete a full self-inspection of repairs and check both the interior and exterior of the vehicle. Also obtain a detailed invoice and written guarantee of repair work.
Take Preventative Measures
Think about how to prevent future hailstorm damage, especially if you travel often or live in a geographic area prone to hail. Not everyone has access to a garage, but nearly everyone can become more familiar with an area and its amenities and also keep up with weather forecasts via mobile apps.
Think outside of the box and know the details about local parking garages and even portable car covers and the patented Hail Protector System. This system takes minutes to install and is made of a breathable fabric that can withstand high winds and sharp hailstones.