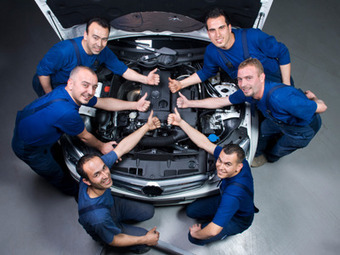 TOYOTA OF GLADSTONE
 NOW HIRING:
ENTRY LEVEL AUTOMOTIVE TECHNICIANS!
&
AUTO DETAILERS
Toyota of Gladstone is currently looking to hire Entry Level Automotive Technicians.  We are looking for CAREER-MINDED individuals ONLY! Recent tech school graduates and Lube Technicians are strongly encouraged to apply.  This is an entry level position, all that is required is a strong work ethic and a basic understanding and passion for vehicle repair.  We are offering top pay and a comprehensive benefits package!  Owning your own tools is a PLUS.
We are also looking to hire several Automotive Detailers.  Previous experienced is a PLUS, but NOT REQUIRED.
We are in the business of selling new and used vehicles and providing exceptional service to those vehicles. Our Dealership has built a reputation on providing courteous, honest service. Our customers appreciate the way we do business, and we know you will too. If you want to work for a successful organization where you can make a difference, then this is the place for you. Previous Automotive Technician experience is NOT REQUIRED for this position.  Lube Tech experience or Technician training is a PLUS.
If Selected, We Offer:
We offer top pay for qualified applicants!
Benefits include medical, dental, 401K & paid vacations!
Paid training and development!
Comfortable, air conditioned work shop!
Strong, supportive team work environment!
Primary responsibilities include, but are not limited to:
Diagnose cause of any malfunction and perform repair.
Communicate with parts department to obtain needed parts.
Save and tag parts if the job is under warranty or if requested by the customer.
Examine the vehicle to determine if additional safety or service work is required
Notify service advisor immediately if additional work outlined is not needed or required.
Notify service advisor immediately if repairs cannot be completed within the time promised.
Document work performed.
Understand and follow federal, state and local regulations, such as those governing the disposal of hazardous wastes.
Must follow all company safety policies and procedures, and immediately report any and all accidents to a manager or supervisor.
APPLY TO THIS AD TO SUBMIT YOUR RESUME!
APPLICATIONS WILL BE ACCEPTED VIA EMAIL ONLY!
WE WILL CONTACT YOU FOR YOUR CONFIDENTIAL PHONE INTERVIEW!
Toyota of Gladstone
19375 McLoughlin Blvd, Gladstone, OR 97027
LUBE TECHNICIAN AND/OR AUTOMOTIVE TECHNICIAN SCHOOLING ARE A PLUS! Equal Opportunity Employer & Drug Free Work Place. Applicants must be 18 years or older and be authorized to work in the US. Applicants must have a valid driver's license. Drug screening and background checks will be performed. © AM 2016
 Requirements
Previous Lube Tech Experience is a PLUS
Automotive Technician Schooling is a PLUS
Owning your own Tools is a PLUS
Integrity, A Positive Attitude And A Strong Work Ethic Required
Willing To Learn
Be A Team Player
Receptive To New Ideas
Keywords: service writer, service advisor, assistant service manager, service manager, service director, adjuster, ASM, ADP, service tech, technicians, mechanics, lube tech, tech, service technician, vehicle repair, car repair, automotive service, auto service, ASE, certified technicians, maintenance tech, maintenance technician, body shop, auto mechanic, automotive mechanic, technical school, UTI, vocational school, apprentice